The Internet4Good project pulls from the skills and talents of 5 Bosch Alumni from different media-related programmes: Common Futures Conversations, Journalism in Global Context and African Filmmaking Fellowship. Organising members of this project are from four countries (Ghana, Nigeria, Cameroon, and Zimbabwe), and have rich professional and academic backgrounds: from investigative journalism to filmmaking to academia to development communication.
Oyindamola Adegboye, is a social impact strategist with 5+ years experience across communication, education and social policy, youth development and nonprofit consulting. A 2017-2019 Erasmus Mundus Scholar, she currently works at the Education Partnership Centre, a Lagos-based consultancy practice that facilitates partnerships between state and non-state actors. She has a Bachelor's degree in Mass Communication from the University of Lagos and a Masters in Education Policies for Global Development from the Autonomous University of Barcelona. She has worked on different media projects including the Bosch-funded digital platform, Common Futures Conversations, where she served as the Country Representative for Nigeria. Oyindamola is a 2019 Ban Ki-moon Global Citizen Scholar and has spoken at global conferences including the European Forum Alpbach (2020) and UN General Assembly (SDG Action Zone). 
Rekiatu is a Cameroonian investigative Journalist and human rights advocate, who works for Cameroon Radio Television (CRTV). As an alumna of the Journalism in Global Context programme, her documentaries/reports on issues concerning migrants, internet crime, and ethical journalism, have contributed to the development of her country. She advocates for the use  of digital reporting and promotion of fact checking in the media landscape of her country. Her objective is to change the narrative using her data communication and writing skills by promoting balanced stories amongst journalists.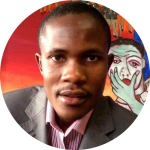 Bhekizulu currently works at the National University of Science and Technology in Zimbabwe as an Online Media Professional Instructor in the Department of Journalism and Media Studies. He holds MSc and BSc in Journalism and Media Studies from the same university. Previously, he has worked  at the state-owned weekly newspaper, the Sunday News, and the now defunct community radio initiative: Radio Dialogue. He is an alumnus of the African Filmmaking Fellowship.
Dennis is a Journalist and Chief Reporter who worked with the Ghana News Agency (GNA), a state owned media for about 18 years. He is also the Regional Secretary for the Ghana Journalists Association (GJA), in charge of Bono, Bono East and Ahafo regions. He is also the General Secretary for the Ghana Journalists Network on Mining, Oil and Gas (GJNMOG). His experience cuts across online and traditional media platforms. He is an alumnus of Journalism in a Global Context programme.
Mercy is a Zimbabwean documentary filmmaker and digital media specialist, curating content for online platforms. She holds a B.Sc in Media and Society Studies and is currently reading for an M.Phil in Media Studies. She has experience as a Journalist,  Script Writer, Social Media Manager, Communication for Development Officer, Digital Media Consultant, Public Relations officer and working on various film productions. She is an alumna of the African Filmmaking Fellowship and believes in telling Stories4Change.